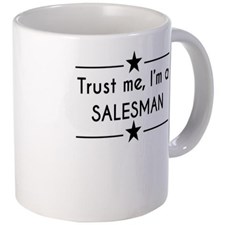 While not everyone may consider themselves to be, each one of us is, on some level, a salesperson. Think about it – when you apply for a job, you are selling your skills, interests, and capabilities to a potential employer; when you write a proposal, you are selling an idea to a client. Salespeople may sometimes get a bad rap, yet we have to remember that they are the people driving revenue. You may have the greatest idea in recorded history, and you need to sell it to someone to meet with success. Whether you're a newbie to sales or have years under your belt, it never hurts to revisit the basics.
Know your product/service inside and out. This may seem obvious, yet you'd be surprised by those who don't. Pull your team together and brainstorm a laundry list of questions customers could ask. Then answer them. Do you know your product as well as you think you do? Good. Then trust yourself and others will believe in you, too.
Have a plan before you begin selling. Lay out the full structure for a script, whether you're in person or on the phone. Leave some room for improvisation, as this script will evolve as you interact with and learn from customers.
Set measurable, identifiable, obtainable, and specific goals. Know where you are starting and where you are going. The people paying you don't want vague explanations or promises. They want results.
Work harder AND smarter. This is two-fold. Once you do the hard leg-work, let your customer relationship management system work for you. You have to make the calls and build the relationships, and when you include all relevant notes in the system, you'll be setting yourself up to look good. For example, when you take note that Karen's a serious dog lover, she'll appreciate when you ask about Clifford on your next call.
Learn from your audience. Listen hard to what your current and potential customers have to say, then learn from it. After all, they're the ones that already use or would be using your product/service and they can offer a fresh perspective. In the words of Epictetus, "We have two ears and one mouth so that we can listen twice as much as we speak." Don't assume you know everything.
Always be genuine. Don't try to sell binoculars to a blind man. Sell the right products to the right people – that way, everyone will win. You can sell what you believe in.
Attitude is everything. Not everyone will respond well to your pitch. Maybe you caught them on a bad day. Could be that they aren't really in your target audience. Keep everything in perspective, because, whatever happens, one interaction won't make or break you. Keep your chin up and move on to the next prospect. You'll feel great when you make the sale.
What would you add to this list? Let us know in the comments!
–          Danielle