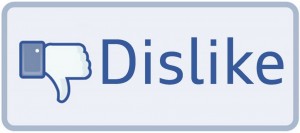 With the development of the "Dislike" button well under way on Facebook, many PR and Marketing firms are scrambling for ways to combat the impending arrival of what is expected to be an increase in negative press. When Facebook CEO Mark Zuckerberg first dropped word about the dislike button a few weeks back, there wasn't much surrounding detail offered.              
 Through the following weeks, limited information has surfaced about this tool being used to cater "empathic" posts. However, at this point, no one can be entirely sure. With this in mind, it's important to discuss within your company the ways you might feel most comfortable preparing for this current social media tidal wave that is about to sweep across the world of marketing and PR.
Although the buzz surrounding this revelation has stirred up some concerns, there are both positives and negatives to this budding situation. A lot of focus seems to be circling the concern that the dislike button will allow consumers to give companies negative feedback without any way to resolve the issues. This means that someone could dislike a company's Facebook page over something irrelevant or miniscule and there is no way to right the wrong.
Ultimately, this is bad news for companies, considering that not just one person has access to a computer, but millions, and there may be nothing stopping them from lowering the rating of a company, with no easy way for customer representatives to swoop in and resolve any issues.
Fear not, because while this is an understandable concern, it remains only one problem area and believe it or not, there are positives to this as well!
The social media platform, and more specifically Facebook, allows for companies to be closer to their ideal consumers. For those consumers who might use the dislike button for a relevant and rational complaint, companies can now receive excellent constructive criticism on how to improve at a much quicker and more personal level. This may also allow for general feedback, no matter the degree of the complaint. In the end, this could help companies address key issues, large or small, and improve their rating on Facebook.
Through all of this, I'm sure there are still more questions, concerns, and/or thoughts regarding your business and its possible fate on Facebook. Here are a few tips to help you prepare and plan for the launch of the dislike button.
It's crucial to make sure your employees are informed on the changing information regarding the dislike button so make sure that your business has a plan of action.

 Be prepared, and discuss with your employees how everyone might work together to address negative rating s on your page.
Remember, the dislike button is still in the works, which gives companies at least some time to gather helpful and relevant information. Make the best out of this situation by addressing it as creatively as you can.
Check out these links that go a bit more into detail on this issue.
-Katie