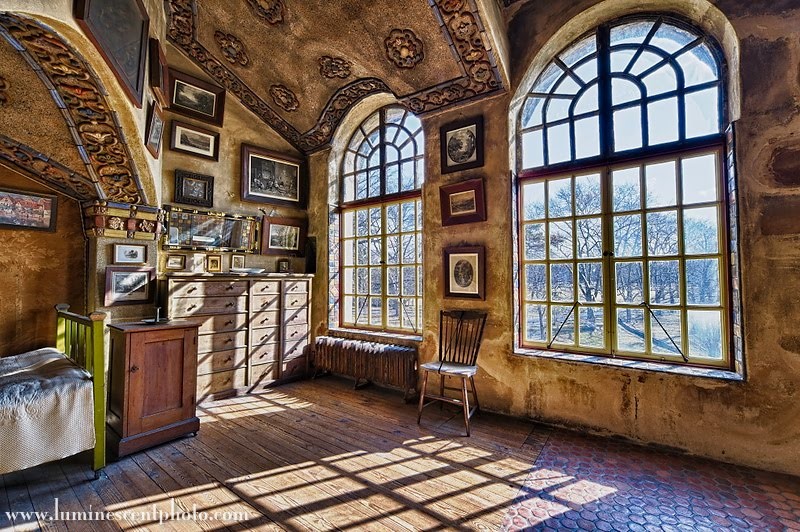 In 1745, while traveling on horseback from Philadelphia to Easton, you probably would have stopped at William Doyle's tavern for a pint of ale and a hearty meal. Since it was almost a two-day journey, you might have spent the night. Today, at this very same spot, you can get grande latte with an extra shot. Yes, it's a Starbucks, but still recognizable should Mr. Doyle stop by. Much has changed in the town that bears Doyle's name. It's now only 45 minutes to Easton and 90 minutes to New York via horsepower. In the center of Bucks County and serving as the county seat, Doylestown has attractions for all ages of visitor. Historic sites, interesting architecture, boutique shops, and a myriad of fine restaurants to satisfy every palate – Doylestown is a destination and a great place to live and work.
One of my favorite places is Fonthill.  Also known as Fonthill Castle, it was the home of the American archeologist, anthropologist, scholar, and tile maker Henry Chapman Mercer (1856-1930). Built between 1908 and 1912 and employing his architectural designs, it is one of the first poured reinforced concrete structures in America, featuring 44 rooms, more than 200 windows, 18 fireplaces, and 10 bathrooms. The home was individually listed on the National Register of Historic Places in 1972. It contains much built-in furniture and is embellished with decorative tiles that Mercer designed and made in the Moravian Pottery and Tile Works – another interesting concrete structure on the property. The castle is filled with an extensive collection of ceramics embedded in the concrete, as well as other artifacts from his world travels.
I had the unique opportunity to tour Fonthill with Mercer's late longtime housekeeper, Laura Swain,before it became a historic site. His will granted her life-time rights to live in the castle until her death. Very few visitors, other than Mercer's invited guests, received a tour such as mine. You are invited to visit DeeterUSA in Doylestown, and we'll take the time to give you a tour of Fonthill!
– Shelby