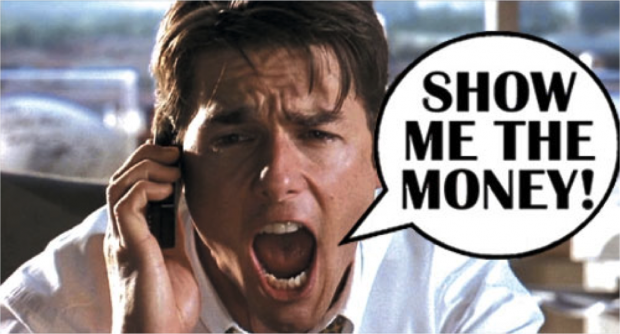 I was flipping channels the other day and I stumbled across a favorite movie of mine, "Jerry Maguire." I was lucky and landed on the channel right at the start of the movie as Tom Cruise's portrayal of the title character was narrating the set-up of the whole storyline. Cruise says: "I couldn't escape one simple thought: I hated myself. No, no, no, here's what it was: I hated my place in the world. I had so much to say and no one to listen. And then it happened.
It was the oddest, most unexpected thing. I began writing what they call a mission statement. Not a memo, a mission statement. You know, a suggestion for the future of our company."
Cruise's character, a hot shot sports agent for a big agency was feeling troubled after realizing that he was fixated on huge dollar contracts for his clients, his company, and ultimately himself. Through this, he had lost touch with "the simple pleasures of (his) job." He no longer appreciated "the way a stadium sounds when one of (his) players performs well on the field."
Through this catharsis, he understood that "with so many clients, (he and his colleagues) had forgotten what was important."
That's when Maguire stays up through the night to write the mission statement. In the film, Cruise continues the narration:
"I wrote and wrote and wrote and wrote and I'm not even a writer. I was remembering even the words of the original sports agent, my mentor, the late great Dickie Fox who said: 'The key to this business is personal relationships.'
Suddenly, it was all pretty clear. The answer was fewer clients. Less money. More attention. Caring for them, caring for ourselves and the games, too. Just starting our lives, really."
As I watched this opening scene, which I've seen literally a dozen times, I had my own break through. There is a Jerry Maguire-like character walking the floors at DeeterUSA … my father, Bill Deeter.
2015 marks our firm's 30th year, and during the 15 years I've been on the team I've heard my dad on numerous occasions talk with prospective clients, existing clients, suppliers, new hires, and just about anyone else who will listen about why and how he started the firm. Some of the founding principles of DeeterUSA?
No more than 10 active accounts at any one time (Jerry Maguire's "fewer clients")

Everybody works on every account (Maguire's "more attention")

We work hard at DeeterUSA, yet try to keep our time in the office reasonable (Maguire's "Caring for ourselves")
All in all, these may seem like a simple ideas, yet when you package it up and tie a nice bow around these and several other principles my dad embraced to start DeeterUSA, there is a unique philosophy at our firm that has proven successful for our team and our clients for three full decades.
-Drew