What Marketing Agencies Can Learn From Craft Breweries
The quality found in "craft" marketing
Quick quiz. When I say beer, what companies come to mind? Budweiser? Coors? Miller? Those are the answers I heard in a quick, informal poll around the office and in my neighborhood last week.
Second question, what's your "favorite" beer? When I asked that question, there was a little overlap, yet several others names came up. Fat Tire, Allagash, Ommegang, and Dogfish Head were some of what I heard.
Final question (for now). What is the common thread with that last list of names? You got it, they're all produced by microbreweries or considered "craft brews."
Craft breweries have been popping up in staggering numbers over the last two decades. Initially, this newer entry into the beer market was thought to be a fad, yet in recent years, big time breweries have been forced to take notice.
This graphic does a nice job of showing the growth craft breweries have shared in recent years: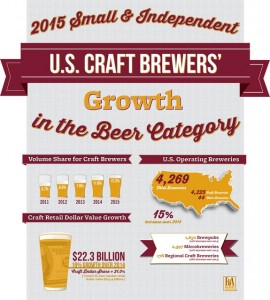 (More information about Craft Brewing Business can be found here.)
It could be argued that craft brewing is not new. It is, rather, the original form of brewing. Case in point, Belgian monks often win "best beer in the world" contests, following secret recipes handed down from generation to generation. The monks brew on behalf of their monasteries, produce the end product in small batches, and price their beer in accordance with the premium item that it is.
Today's craft brewers act in much the same way – small batches, priced as a premium item. One key difference between today's craft brewers and the monks are the age-old recipes. Contrary to their Belgian counterparts, today's craft brewers generally are open to experimenting, playing with flavors, and changing things up to create unique and memorable brews. Anchor Brewery in San Francisco has been producing its "Anchor Christmas Ale" each year since 1975. In those 40 years the brew masters have never used the same recipe. The beer is similar from year to year, yet something is different and unique to each year's concoction.
New question. Why am I, a marketing and communications guy sharing all of this "stuff" about craft brewing? Well, in recent days, I've been a little troubled with a statement I've heard countless times over the 20 or so years I've been with DeeterUSA. When talking with prospective new clients we have often said that we view New York and Los Angeles-based agencies as our competition. The implication here is that we can go "toe-to-toe" with the big name agencies in public relations and advertising … the Budweisers and Millers of our industry.
While I do agree with that sentiment, I actually think we can take it a step further. Instead of comparing ourselves to these big agencies, I prefer making the comparative between us (and other great, modest sized agencies around the country) to the high-end, highly successful micro brewers. We are nimble in our approach to communications and are able to adjust programming to ensure that we are crafting the best recipe of tactics that strategically support our clients and their products or services offerings. We are pioneering and inventive and willing to go the extra step to make our own brand of "brew" that is truly exceptional … and we are never satisfied. We are always searching for ways to make programming better. Similar to Salesforce who find ways to integrate chatbots and other unusual features to a website to improve customer service. 
In essence, DeeterUSA is a group of "craft marketing and communications professionals." And while I am not slamming the big agencies in New York and Los Angeles, I do firmly believe that companies looking for high quality, highly effective public relations, advertising, digital/social support, and more might be well served in looking at agencies in Austin, Texas … Portland, Oregon … or Doylestown, Pennsylvania.
Cheers!
-Drew Deeter