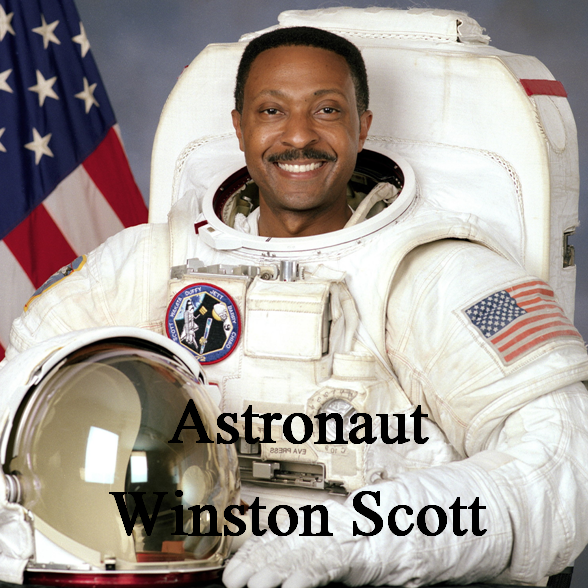 Not so long ago, we were asked to help market/brand and improve communications among the 150+ churches in the Presbytery of Philadelphia, the region's governing body. Based on that effort, several churches approached us asking if we might be available to help them individually as well. One of those churches had been losing members for some time and its once-vibrant youth program had all but fallen apart. To help pump new spirit into the congregation, and the youth program in particular, we outlined a strategy, created a three-year plan, and then scoped out a kickoff campaign that included astronaut Winston Scott. We had concluded that if we wanted or needed to talk about heaven, there was probably no one better equipped to do that than a real-life astronaut.
Needless to say, the months leading up to Scott's appearance were filled with excitement as we created posters, fliers, and press materials that were shared with church members, shops, and businesses in the area. Scott flew himself to Philadelphia from Florida, appeared in his NASA jumpsuit, spoke for 45 minutes, shared a 10-minute film of one of his space adventures, and then took time to shake hands and talk with each of the near 300 church members – including many wide-eyed kids – in attendance. Following that event, a newsletter was prepared and distributed, and photos of the event were placed on all bulletin boards. This newsletter recaptured the visit and reminded the young people in the audience the importance of school, and living a healthy, productive life.
That event was so successful that word quickly spread and we worked with Scott to stage similar events at two other churches in the greater Philadelphia region.
Winston Scott proved to us to be much more than an astronaut. He was a heaven-sent angel who helped three churches create the energy they needed to rebuild their congregations. From time to time we talk with Winston Scott and he never fails to ask about those churches he visited.