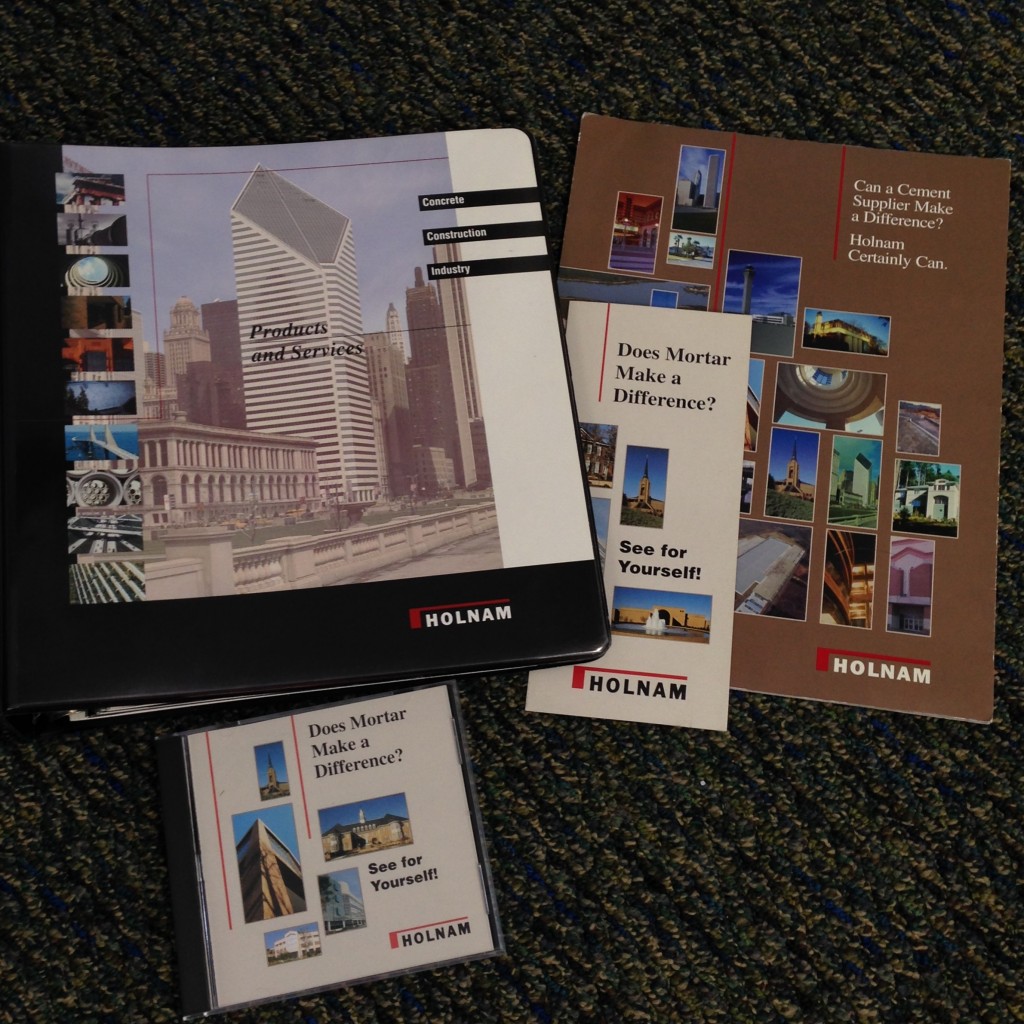 We never thought we'd write a manual for the largest cement company in North America. That wasn't on our "bucket list." Yet working with the kind, thoughtful, courteous men (and a few women) at Holnam Cement, headquartered in Dundee, Michigan, turned out to be a very fun and rewarding experience. When small Dundee Cement Company was purchased by Holderbank, a Swiss organization, along with 17 other cement companies throughout the United States, they were grouped together under the Holnam name. And DeeterUSA was asked to marry the 17 companies philosophically and re-brand the venture.
We took a not-so-interesting commodity and used state-of-the-art creative tactics to generate ongoing B2B news, publicity, and excitement.
We worked with an industry-leading architectural photographer to shoot concrete structures across the country in very artistic ways and used these black and white images as divider pages for a manual on cement and concrete construction. Customers marveled at the images and loved showing them to their counterparts. It was a unique approach that hadn't been used before in the industry.
We also created one of the very first interactive computer programs, "Does Mortar Make a Difference" that allowed builders and consumer homeowners to see how different colors of mortar totally change the look of a brick façade. Today this type of program has become commonplace, with paints, fabrics, clothing, and more. However when we did this in the mid-90s with mortar, it was true cutting-edge and generated much press, interest, and sales!
DeeterUSA also created a family of collateral materials for Holnam that included sales sheets, brochures, trade show booth graphics, actual cement bags, and more.
We enjoyed the semi-weekly meetings and trips to Holnam's headquarters in Michigan and being back in "home territory." We also travelled to plants and trade shows across the country, helping unite the brand and building a new culture and sense of "team."
We learned more than we thought possible writing the manual – about setting concrete in cold weather and hot weather, about always meeting ASTM standards, about why cement companies generally stay local, and, best of all, how great it is to be able to be creative with a commodity product when you work with a team of committed professionals who are experts in their area and willing to us use our expertise to successfully help them.