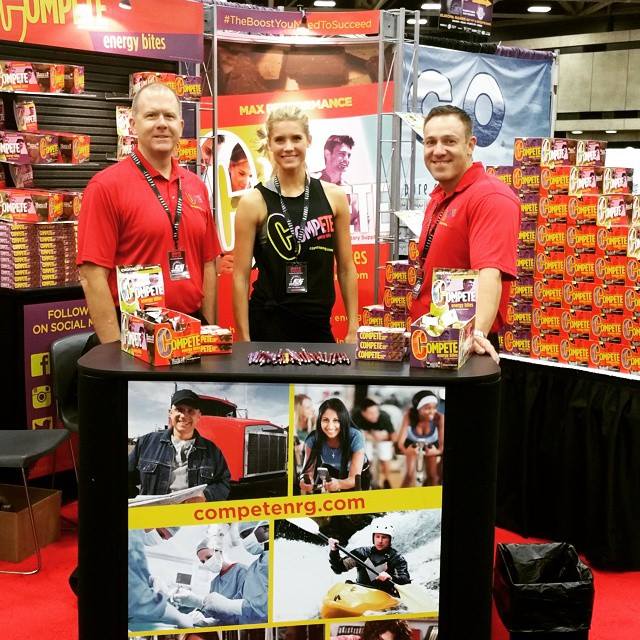 COMPETEÒ energy bites officially launched at the International Racquet, Health & Sports Club (IHRSA) trade show in San Diego in March 2014 to great reception from the health and fitness industry. Drawing from previous DeeterUSA trade show experience, we knew how to make a trade show experience successful, yet we also went into the IHRSA experience open to learning about how best to make COMPETE a success in that industry. Since the initial launch, DeeterUSA has represented COMPETE at 15 trade shows and counting. With the help of brand ambassadors we have successfully sampled the product and helped drive sales. These shows have been integral to building awareness of COMPETE and developing relationships with distribution partners, retailers, media, and consumers throughout the United States and abroad. The one-on-one interaction with key players in the industry has proven to be invaluable. We have traveled to Salt Lake City, Las Vegas, Orlando, San Diego, Austin, and Philadelphia, to name a few, to connect with people in person and learn first-hand what they like about COMPETE and how we can improve our communications.
One thing we find to be most rewarding in our business is the opportunity to work with a brand on integrated projects for an extended period of time. When we have a full understanding of a brand, we create synergy and maximize the return on everything we do. When it comes to COMPETE trade shows, we coordinate all elements from beginning to end, including pre-show promotion, organizing shipment of the booth and samples, booking electrical and cleaning services at the show, actually attending the show, working the exhibit and collecting leads, updating social media profiles to share our experiences, and, last but not least, following up with the leads we gather to spur on sales and strengthen relationships. We love to go to trade shows because we learn new things all the time from the people who try and love our product. We've met hikers, climbers, bodybuilders, triathletes, skiers, and more, and we've learned how COMPETE helps give them "the boost they need to succeed." There is nothing quite like seeing the brand come to life in person!
Our team has worked closely with Mission Pharmacal Company to roll out COMPETEÒ energy bites nationally. To learn more, check out (Link to http://deeterusa.com/project/compete)!