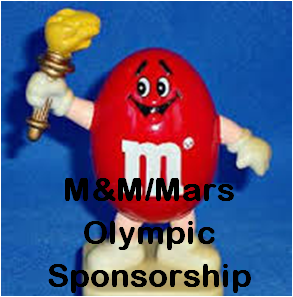 When our company founder was recruited to join M&M/Mars in 1982, one of the things that attracted him to the company was the promise that he would oversee and manage the company's 1984 winter and summer Olympic team and games sponsorships. That Olympic Games sponsorship opportunity was the first step in repositioning Mars products (worldwide) from being indulgent treats to permissible snacks.
While it was not practical to include all Mars products in the actual sponsorship, all brands benefitted from the positioning of Snickers bars and M&M chocolate candies as the games' official snack foods.
Through the sponsorship of the winter and summer games in 1984 we were able to address the myths and misconceptions about Mars products. We introduced science that reinforced how snacking had a place in a well-balanced diet and positioned M&M/Mars as a family-owned and operated business producing high-quality products to meet market demand. The marketing campaign mounted around the 1984 games actually started in 1982 and did not end officially until the mid 1990s.
Interestingly, the repositioning also opened the door for Mars to expand into a much larger product category than candy/confection alone. Sales of all M&M/Mars products grew more than 20 percent across the board based on this sport sponsorship and we hosted more than 600 M&M/Mars retailers as our guests during the 16 days of summer games competition. Today Mars products support NASCAR's Sprint Series, have an official NFL sponsorship, and more.
Coca Cola and M&M/Mars were the only two 1984 Olympic sponsors for both the winter and summer games. And while there were 26 corporate sponsors exclusive to given product categories for the 1984 Summer Olympic Games, in a post-Olympics ranking of performance, M&M/Mars was recognized as one of the top five Los Angeles games' sponsors based on return on investment (ROI). We doubt that the success with NASCAR or the NFL has yet to compare to the success achieved with the 1984 Olympic Games.
Check out one of the M&M/Mar commercials.