Orchestra USA Walton Arts Center China Partnership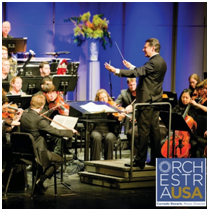 Challenge:
To leverage the world-class resources of Walton Arts Center and Crystal Bridges Museum of American Art in an effort to position the Northwestern Arkansas region as an attractive global center for arts and entertainment in America's heartland.
Solution:
Rebrand the Walton Arts Center Artosphere Festival Orchestra as OrchestraUSA and create expandable cultural exchanges and tours of music and art between Northwestern Arkansas cities (corridor of Fayetteville-Bentonville) and cities throughout China with populations of 10 million residents or more. This is being done to encourage our two nations to bridge cultures, share ideas, and promote greater harmony.
Outcome:
Based on this initiative's preliminary announcement in September 2017, plans are now being finalized to tour OrchestraUSA to performing arts centers in three cities in China starting in May 2019, with additional tours and locations to be scheduled for 2020 and beyond. In advance of the 2019 tour, a sister-city-type program is being set in place between Fayetteville, Arkansas, and Hangzhou, China. This Walton Arts Center initiative is being developed and implemented in cooperation with the United States Department of State, the US-China Exchange Foundation, Brand USA, the Chinese Embassy in Washington, D.C., and the Chinese Consulate for the Northwest Arkansas region.