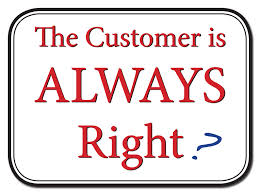 We in business have all heard the comment  "The customer is always right." I'm here to tell you that is not really true. The better way to think about it is that the customer paying for your product or service has the last word … right or wrong!
For nearly 20 years I was the "customer" or "client" and I prided myself on being open-minded, acknowledging, when and where appropriate, that I did not have the answer to every question and/or problem. I even admitted that I made mistakes. It was sometimes painful yet always necessary. My goal on making mistakes has always been to bat better than 500. When I do that, I am a winner.
As I have gotten a little older, I also have come to realize there are very few things in life that are completely "black or white." When you are living your life to the fullest, business or professional, you learn very quickly that many shades of gray replace pure "black and white."  What I have also found is that the better quality managers and business leaders have the self-confidence and maturity to readily admit that life is full of gray areas and they don't have all the answers. And the true industry icons I know are never shy about admitting that they make mistakes.
What makes these people so unique in my mind is that not only are they willing to admit to their mistakes, they are equally quick to compliment those who correct them. These icons want what is best for their company and it stops right there. Being right is nice, but having a successful business is much more rewarding.
─ Bill