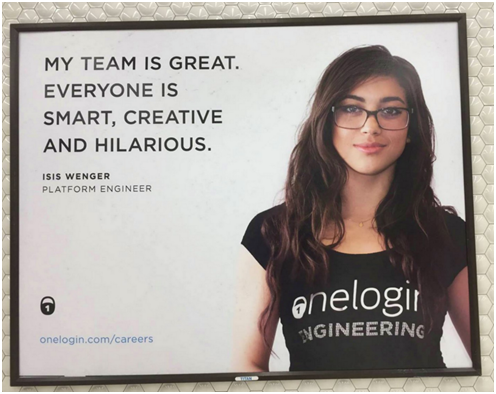 When Isis Wenger was chosen for an employee recruitment campaign for OneLogin, she had no idea that she would spark a social movement, or rather a social media movement.
When Wenger, a platform engineer at OneLogin, posed for the ad she received an overwhelming response of negative feedback. Many people questioned whether the ad accurately portrayed what female engineers look like, some even claimed that she was "too pretty" to be an engineer.
Wenger took to social media and encouraged others to share their stories about diversity issues in technology. She shared a photo of herself holding a piece of paper that said "I help build enterprise software, #ILookLikeAnEngineer." Not long after, the hashtag #ILookLikeAnEngineer caught fire. Over the next week, the hashtag was tweeted over 50,000 times by other women in engineering.[i]
Gender disparity and sexism are prevalent issues in tech, engineering, science, and math industries and have recently come into the spotlight thanks to Ellen Pao. When the junior investing partner at Kleiner Perkins Caufiled & Byers, and former CEO of Reddit Inc., sued the venture capital firm for gender discrimination she made headlines.
Today, younger generations are taking their concerns to the web; protesting via social media. Just in the past year we've seen social movements concerning same-sex marriage, racial profiling, and transgender discrimination take over the web.
According to the Computing Research Association, the gender gap in tech-fields often begins in college. In 2011 only 12 percent of computer science and computer engineering degrees were awarded to women.[ii] Part of the solution is companies making their workplaces more inclusive and recruiting diverse candidates. Another part of the solution comes from women in the field encouraging aspiring engineers on the web, much like Wenger.
What do women in math and science really look like? Who are they? How many are there? While gender disparity has often been at the forefront of people's concerns, this movement sparked by Wenger forces us all to take a deeper look. The #ILookLikeAnEngineer movement also reminds us all of the power of social media and the power in sharing one's story.
-Lydia
[i] http://www.nytimes.com/2015/08/06/technology/hashtag-aims-to-break-gender-stereotypes-in-engineering.html?ref=technology
[ii] http://archive2.cra.org/uploads/documents/resources/taulbee/CS_Degree_and_Enrollment_Trends_2010-11.pdf